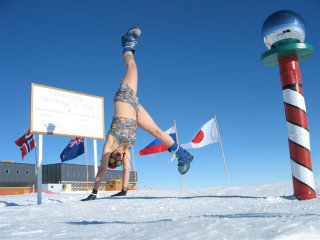 I really don't care that this girl is doing cartwheels in a bathing suit on the south pole (she was probably only outside for a moment, afterall, and she is a mammal), but am really amused by the fact that the South Pole actually has a, well, pole.
I wonder which government paid to have that installed? Also, does the North Pole have one, too? Have they hired a drunk in a red suit to hang out there and eat cookies?
I wonder how long it will be before some camgirl starts pole dancing with the pole.
Via Boing Boing.