Beth helped me (well, she did most of the work) dye my hair last night: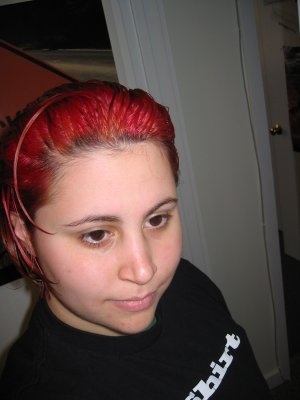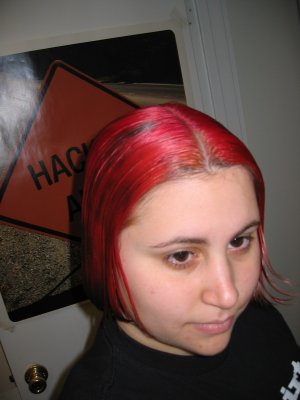 The bleach job was a little messy, but we couldn't fix it 'cuz we used up all the bleach. And the red isn't all that vibrant, but I think that's 'cuz of the brand of dye I used (we couldn't find Special Effects brand locally, but I think I'll order some online for next time). I dunno… I think it looks interesting. Once the red starts to wash out, I'll try to touch up the bleach and use some less crappy dye. I think I'm gonna try the 'work it in like shampoo real quick' method instead of the 'brush it in mind bogglingly slowly' method.
My co-worker saw me and said "Teri, you're the coolest Teri ever!"
Also, I got a computator for my bike today, and tried a different route to work, to boot. Instead of one big uphill I was faced with many moderate uphills, but I still made it (except where I had to get off to walk my bike across some mud back to 366 'cuz I made a wrong turn somewhere). Usually, it takes me 20 minutes to bike to work. Today it also took me 20 minutes, but instead of going 2.2 miles, my computator says I went 3.275 miles. My maximum speed being 22 mph (downhill, probably), and my average speed was 9.7 mph (when I looked during the uphills, it was more like 4 mph). I just hope I set the wheel size correctly… otherwise this info is all wrong (of course).